PLEASE BE ADVISED: Effective 12/01/19 the Big Bend Cut through is closed due to construction.
This can make it tricky at times to get to my office. If you are coming from Kirkwood? No problem. Traveling South on Kirkwood Blvd you can easily turn right on Prospect Avenue. Prospect is right after Plaza Tire and right before you get to Big Bend. The Building has a a sign on the front that says All Air in red. Come around to the back of that building and there is a parking lot. Come through the center set of doors and Im in the first suite on the left 201.

If however? you are coming North bound on Kirkwood? Due to a pesky concrete median? You can't make a left hand turn onto Prospect. I have found it easiest to head West on Big Bend, CROSS Kirkwood. Your GPS may tell you to turn right but you can't due to current construction. ( that's the second complication Keep heading West to Geyer Road. Turn Right on Geyer. At the first stop sign , Rose Hill turn right again. This will take you back up to South bound Kirkwood. Turn right. Prospect is right past Plaza Tire. Again look for the first building on your right. Come round to the back of the building Come through the center set of doors and I'm in the first suite on your left. 201. Please don't hesitate to call me if you need help finding me the first time.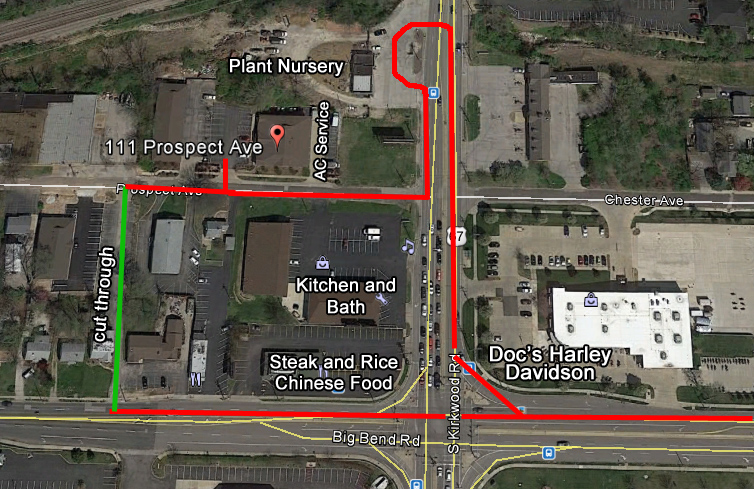 As much as I loved being so close to home in Webster Groves this is a great move for me and I am really happy to be in Kirkwood.
It's just a quick trip down 44 and still relatively close!
The only draw back to my new space is getting there! It's a GREAT central location. But one measly little concrete divider creates a tricky situation. If you are coming South on Kirkwood? No worries. Just make a right on Prospect... It's right before you hit Big Bend on the right. I'm the first building on the right, park BEHIND the building as it faces Kirkwood and come in the middle set of doors. Suite 201 will be on your left.
If you are like me and coming from WG? Going West on Big Bend turn right on Kirkwood... You will PASS Prospect on your left... ( pesky concrete median!) Go less than a block and hang a u-turn in the Nursery parking lot. Go up to Prospect and turn right. Again building on the right... come to the back side and come through the middle set of doors.
There IS a cut through that doesn't involve a U-turn. See the Map. It will be easier if I show you how to use it after your first appointment. But for the adventurous....If you are going West on Big Bend PASS Kirkwood. COUNT telephone poles.. seriously.
After you pass The fourth pole... and "waxing by Janet" turn into the driveway between the houses. drive North to the end of the parking lot... this will take you to Prospect Avenue! Take a little right turn go maybe 300 ft? And my building is on your left. Opposite the Title company .
I know this sounds really complicated... but it's easier than it sounds.... I promise. I can't wait for everyone to see this place!


For prompt response PLEASE CALL OR TEXT 314-401-8024 FOR AN APPOINTMENT - I'm afraid I don't check emails very frequently and it could take several days before I see your message. Thank you!